Sean and Desiree's Brooklyn Wedding
One of the beautiful things about weddings is how they bring people and families together. Sean and Desiree were married a few years back but hadn't had the chance to celebrate with both their families. Their Brooklyn wedding was the epitome of love, joy and togetherness all in one gorgeous day.
To set the scene a bit, Sean and Desiree got married in Brooklyn, NY and celebrated at The Green Building. The venue is a gorgeous little hall with an awesome patio that fit their vibe perfectly. They also did just a great job planning all the details, from their invitations to their party favors, nothing went without care and attention.
The Details
After the reveal, we took some pictures in the neighborhood, then headed to the ceremony at St. Agnes Roman Catholic just a few blocks away.
Brooklyn Wedding Ceremony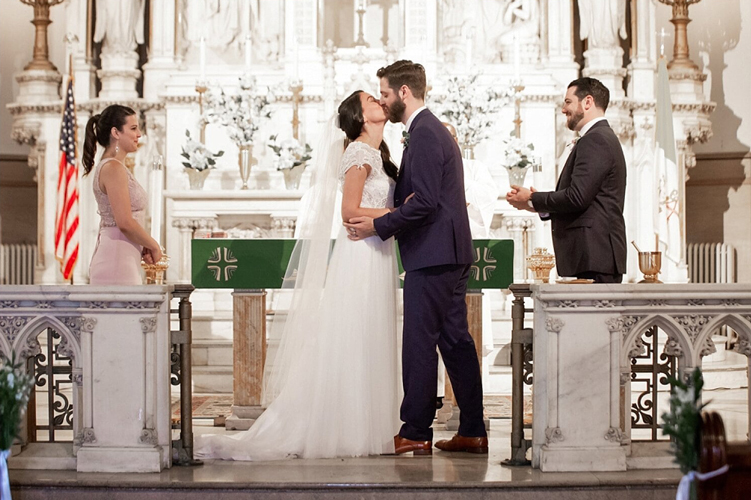 We strolled back to the venue with the bridal party and got some great shots, really capturing their beaming excitement and the surrounding area of their Brooklyn wedding.
The Party
This party was so fun and unique, from the band to the food. The couple had the Silver Arrow Band as a trio and then full band. They played a brilliant combination of pop covers and latin dance music. There were two food trucks (Korilla BBQ and Nuchas – SO good!) that pulled right into the Green Building back patio, and the desserts were to die for!
This day was so lovely. (Aside from the fact that I fell off a chair and broke my toe first thing upon arriving at the venue – a fun story for a rainy day!) Regardless, I absolutely LOVED working with Sean and Desiree. Here's one last gem from their engagement session at the Brooklyn Botanical Garden.
Special thanks to Jesse Meigel (day of event coordinator of Parties N All) for helping me with my broken toe and my awesome lighting assistant Ria for carrying me through!
Are you in the process of planning a wedding or event? Please reach out to see how we can help you!
---
---